UUNA TEK
Regular price
$899.00 USD
Regular price
Sale price
$899.00 USD
Unit price
per
Sale
Sold out
Share
Elevate your creative projects with the UUNA TEK® H Version Pen Plotter, an A3-sized Handwriting Machine, XY Plotter, and Laser Engraver designed to set new standards in precision and speed. Unveiling itself as the world's fastest handwriting machine, it boasts an impressive 300% increase in speed compared to its peers, making it the go-to choice for artists, professionals, and enthusiasts seeking unparalleled performance.
View full details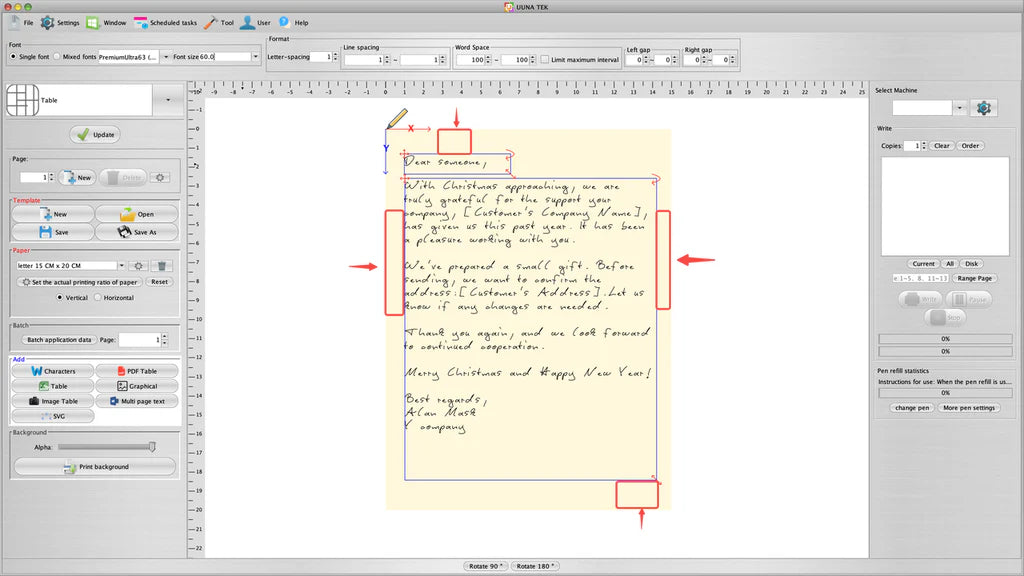 Main Features
Unmatched Speed

UUNA TEK H Version redefines the game with a writing speed of up to 12,000MM/MIN, setting it miles ahead of the competition.

Cutting-Edge Technology

Powered by the Drawcore V2.0 motherboard and equipped with GRBL Compatibility firmware, it represents the pinnacle of innovation.

Precision Redefined

Achieve meticulous mechanical precision with a minimum resolution of 0.01mm for both the Y and X axes, ensuring that your creations are exact to the finest detail.

Versatile Laser Engraving

Choose from laser heads with 500mW, 1.6W, and 2.5W power options, allowing you to engrave various materials, from wood and plastics to leather and paper.

Intuitive Control

Seamlessly manage your power rate, engraving speed, and input formats with the UUNA TEK 2.0 Control add-ons.

User-Friendly Connectivity

Connect via USB or Bluetooth, offering flexibility for different operating systems, including Windows 7/8/10, Mac OS, and Linux.
Amazing machine to work with
Two months ago, I acquired an A3 H version plotter without a basement, and the assembly process proved to be seamless and straightforward. Installing the software was equally hassle-free, making the overall setup a breeze. The plotter's robust construction immediately caught my attention, offering a solid and reliable build that has been a delight to work with.
As I continue to explore the full range of capabilities this plotter has to offer, I am constantly amazed by its versatility. Experimenting with different pens for various mediums is a simple and enjoyable task, allowing me to achieve the exact results I desire. The speed at which the iDrawPenPlotter operates is truly impressive, making quick plots a seamless experience. Moreover, when precision is paramount, this plotter excels, showcasing a remarkable level of accuracy.
Working with the iDrawPenPlotter has become an addictive and entertaining experience. The machine's combination of quality, precision, and speed ensures countless hours of enjoyment as I explore its creative possibilities.
Unleashing Precision: The Ultimate Game-Changer in Pen Plotting & Laser Engraving
I'm thrilled to share my creative journey with the UUNA TEK H Version Pen Plotter - a versatile device that can write, draw, and engrave with amazing speed and accuracy. I chose the H A3-sized model with the 2.5W Laser Engraver add-on, and I'm blown away by its performance. It's the world's fastest handwriting machine, reaching up to 12,000mm/min, and it's perfect for my artistic projects. The UUNA TEK H Version has a powerful Drawcore V2.0 motherboard and GRBL Compatibility firmware, which makes it easy to use with Inkscape and Lightburn software. I can control everything from power rate to engraving speed to input formats with the UUNA TEK 2.0 Control add-ons. It connects via USB (Bluetooth) to my 12 year old PC running on Windows 10, and it's a real joy to work with. The UUNA TEK H Version is a game-changer for my creativity and innovation.
Solid reliable steady plotter
I use this plotter in a design school with students and it is super easy to use for everyone, this is a very accesible machine with inkscape driver it allows anyone to be able to use it.
The base and the H version allows a very steady environment so the results of the drawing are reliable. We aslo assembled the machine with the students, it was a very interesting moment for them to as they learned also how it works technicaly, this machine have the advantage to be both professional and educational with clear documentations to use.
Awesome, versatile and affordable
Great penplotter. Easy to set up, easy to use and well build.
Was packaged great and arrived quickly.
Can highly recommend!
A Great Drawing Machine
I purchased the A3 H version a few months ago and have been very satisfied. It was relatively intuitive to set up and the few questions I had were quickly answered by customer support. There was only one minor adjustment I had to make the drawing arm beyond the directions in the tutorial videos. I primarily use this plotter for making art prints and I love how solid the parts feel as well as the consistency and speed of the machine. Based on my experience and some things I've seen from other users, it seems like there is some minor variations in the basement plate. It appears to be level and for most usage it is. However, if I try to use a very fine pen with the minimum amount of pressure on the page there will be a few spots where it won't make contact with the paper despite working everywhere else.